This Sunday, AAA presents one of it's big PPV events of the year, Verano de Escándalo! Here's a rundown of the card.
Drago, Aerostar & Bengala vs Lanzelot, Máscara de Bronce & Australian Suicide
While Drago and Aerostar are big stars with Lucha Underground, on this program they're going to give an aerial exhibition match alongside with amazing performer Bengala, facing Lanzelot (former DTU talent, worth the watch), Australian Suicide and big revelation Máscara de Bronce. We only can expect a spotfest between these six, no rivalries, no other expectations but some fantastic, frenzy aerial moments.
What will happen?: It's a dance, mainly because no result can affect either of these guys, but I'll go with the Real Fuerza Aérea.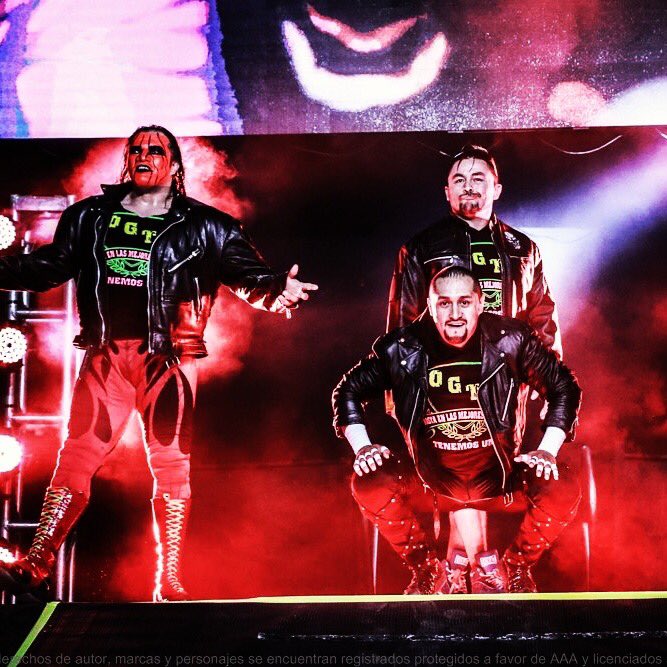 OGTs: Averno, Chessman & Superfly vs Ricky Marvin, La Parka & Argenis
OGTs Averno and Chessman, alongside newest member Superfly, bring the attention to this feud against former member Ricky Marvin. While Averno and Ricky Marvin are already two of the most interesting luchadores right now in AAA, we can tell that Chessman and Superfly are going to give it all for sure. La Parka, in the absence of a better feud, is inserted as Marvin's new best friend and the spectacular Argenis was walking by and got added to the match.
What will happen?: OGTs got the opportunity to be relevant again. They are former Tríos Champions, so they need to get over Ricky Marvin and go for what is worth. I love Marvin, but I'll go to OGTs for the win.
AAA Tag Team Championship Match:
Pagano & El Mesías vs Dark Cuervo & Dark Scoria
This match could be very interesting to watch. Pagano and Mesías are doing an amazing job together as foes and friends teaming up, even winning the AAA Tag Team Championships while they hate each other. Scoria and Cuervo have been doing a decent job in AAA´s fashion stalking, interfering and attacking them in order to make their alliance weaker.
What will happen?: I´d say that if AAA want to keep their best storyline right now, Pagano & Mesías should win this match. Fact is, the rivalry with the dark guys has been already too long and they are wasting all the attractive possibilities on this. They must drop them out and move Pagano and Mesías to another level. Pagano & Mesías win.
Pimpinela Escarlata vs Bamba: Hair vs hair match
OK, so here is the deal with this two: They've been feuding for so long. A really, long time. AAA should be watching what they are doing with their main exótico and the best exótico prospectus they have right now, because they're just wasting time in all kinds of stipulations and not going anywhere.
So the hair vs hair match  may be the last match of this feud. In the lucha libre tradition, a match like this is the ultimate step to know who is the best. Verano de Escándalo should mark the end of the rivalry and let any of these two luchadores, make their separate way to Triplemanía. Yeah, La Pimpi should be working with other exóticos right now, helping them to grow up and Mamba is a luchador who can even get rid of the gimmick and go for more in the company. Maybe one day.
What will happen?: Mamba should win this, period.
Kevin Kross vs El Hijo del Fantasma
Yeah, another one on one match and is something that should be interesting. Kevin Kross as some sort of second in command of Johnny Mundo (while he's at home polishing his three AAA titles talking on the phone with Brock Lesnar about how amazing it is to be champion: "But you know, for me is the hardest, I'm a triple champion!") has been unleashing hell in AAA – one can say – without any motivation. The beloved Hijo del Fantasma – better known as the hunter King Cuerno in Lucha Underground – is the one who will face the destructor and be the pride of México. Kross while being just a destruction machine, won´t hesitate to keep his path. In a classic México vs U.S.A. match, the crowd will have the chance of scream and project all their better insults to the ring.
What will happen?: El Hijo del Fantasma should  e the winner, but if the booking is correct, Kross can make it with the help of certain blonde AAA Women's Champion Taya or even the triple crowned Johnny Mundo. You know, if they are willing to overtake the odds.
Dr. Wagner Jr. vs Psycho Clown vs Monster Clown vs Murder Clown vs Carta Brava Jr. vs Soul Rocker: One mask will fall
And this is why we can't have credibility for AAA. At the beginning, the promised match was Wagner vs Psycho Clown, which is the real feud here involved. Then, somehow, former Psycho Clown partners Murder and Monster got involved which was kind of interesting for a moment. One would think – or the booking direction made you think – that they could intervene on the mask vs mask match to help or to harm Psycho. Well, not bad, that would be the outsider variable even if we forget that their feuded some months ago, so they basically had nothing to do here. Then, suddenly, Carta Brava Jr. and Soul Rocker, two thirds of the AAA Tríos Champions appear – yet again – interfering and beating up everybody and achieving by that random action to be included in a six luchadores match for the masks, making it the main event for Verano de Escándalo.
The six luchadores (well, I wouldn't go for Monster Clown) are good enough to be in a main event, no problem about it, but the story isn't consistent and only made the main event for Triplemanía crystal clear and that means, neither Wagner or Psycho Clown are going to lose the mask. Then, the odds go for the other four luchadores involved. So the thought here is that being six guys over the mat, they are going to prepare something unforgettable at least to maintain some heat until Triplemanía (and I'm talking about the main guys Wagner and Psycho Clown).
Tell us now, what will happen?: Firstly, I don't think AAA booking is that bold to make Dr. Wagner Jr., nor Psycho Clown, lose their mask. Instead, they have the chance to work the odds and elevate the heat by make Wagner unmask another former member of Psycho Circus. Secondly, Soul Rocker is the weakest link in this match and he is possibly one of the most likely to lose it. So, finally, I'll go for Monster Clown as the guy who loses the mask this sunday.
Note: As usual in Mexican lucha programs, AAA will include one or two more matches that weren't advertised or put on the billboard, they are usually undercard matches but in the week there were reports that the mixed tag championships will be disputed in Verano de Escándalo, including Big Mami and Niño Hamburguesa.